By conservative radio host and blogger Hugh Hewitt
The sudden and deadly outbreak of swine flu in Mexico City and its near simultaneous spread to places as far flung as New York and New Zealand presents President Obama with his first very public crisis.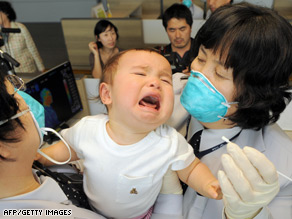 The early non-response by Homeland Security Secretary Napolitano to the prospect of Mexicans and Americans entering the country from our neighbor to the south (as well as third country travelers transiting Mexico en route to America) puts an enormous responsibility on the Administration's shoulders. From Friday afternoon forward tens of thousands of people have come from Mexico into the United States –legally– and the U.S. government has done nothing to impede or delay their arrival and their melting into the U.S. population. Obviously the flu had already arrived in many places before anyone could reasonably be expected to know its advance, but from Friday forward the president and his team have been on notice that a pandemic could be developing, and did nothing about the only realistic way of limiting the spread of a contagious illness –quarantining those with the bug.
If the new flu turns out to be nothing but a standard cycle of misery with a standard number of deaths associated with it, then the non-response of the president and his team will fade away as an issue. But as President Bush discovered after Katrina leveled New Orleans, the public expects the president to manage every crisis and to do so at breakneck speed. W's delay while first Mayor Nagin and then Governor Blanco fumbled many balls and his tolerance for FEMA's incompetence was seen by the public as a decisive moment of presidential failure, and no amount of extra effort after the military arrived could repair the damage done.
Filed under: Health • Hugh Hewitt • President Obama