Do you know what your family would do if you lost your job - or worse, your home? Financial expert Suze Orman is ready to help you devise a recession rescue plan to survive - and possibly thrive - during this deepening financial crisis.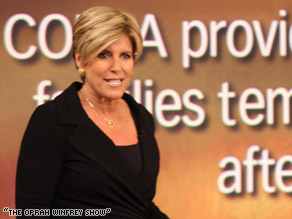 Families are also losing their homes at a staggering rate. Each day, another 10,000 homes are foreclosed, forcing families to turn to shelters filled to capacity. Left with no place else to go, some people are putting makeshift roofs over their heads in tent cities.
As the crisis continues, it's easy to let fear take over - but it doesn't have to. Orman's five-step plan can help you rise above and take control. "There's only one person that's going to save you right now, and that's yourself," she says. "You have got to get on what I'm calling the 'save yourself movement.' Each and every one of you has to have your own personal financial stimulus action plan."
Filed under: Finance • Suze Orman