By Karl Rove, former senior advisor to President George W Bush
President Barack Obama has finished the second leg of his international confession tour. In less than 100 days, he has apologized on three continents for what he views as the sins of America and his predecessors.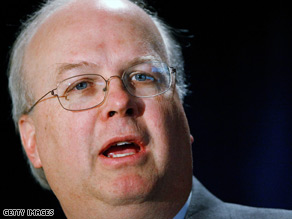 Mr. Obama told the French (the French!) that America "has shown arrogance and been dismissive, even derisive" toward Europe. In Prague, he said America has "a moral responsibility to act" on arms control because only the U.S. had "used a nuclear weapon." In London, he said that decisions about the world financial system were no longer made by "just Roosevelt and Churchill sitting in a room with a brandy" - as if that were a bad thing. And in Latin America, he said the U.S. had not "pursued and sustained engagement with our neighbors" because we "failed to see that our own progress is tied directly to progress throughout the Americas."
By confessing our nation's sins, White House Press Secretary Robert Gibbs said that Mr. Obama has "changed the image of America around the world" and made the U.S. "safer and stronger." As evidence, Mr. Gibbs pointed to the absence of protesters during the Summit of the Americas this past weekend.
That's now the test of success? Anti-American protesters are a remarkably unreliable indicator of a president's wisdom. Ronald Reagan drew hundreds of thousands of protesters by deploying Pershing and cruise missiles in Europe. Those missiles helped win the Cold War.
Filed under: Karl Rove • President Obama