Shaheen Jafargholi's commentary is an LKL Blog Exclusive.  Look for his entire interview on CNN.com/LarryKing later today!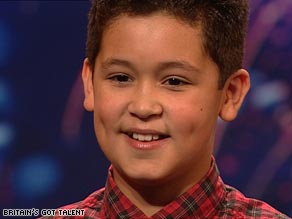 To see Shaheen's performance on "Britain's Got Talent" CLICK HERE.
Hi my name is Shaheen Jafargholi.  I am 12 years of age and I recently appeared on Britain's Got Talent.  It was an amazing experience being on the show, and the comments I had back from the judges were phenomenal.
Since appearing on the show I have done various interviews for TV , radio shows , newspapers and magazines.  I feel so lucky to have been given this amazing chance to live my dream of having world recognition!  I cannot believe how much my luck has changed overnight.
It is such an honor to think that Larry King has requested for me to appear on his show, and also the fact that my hero and idol BEYONCE will be on there too.  To be recognized in America is so amazing and it is overwhelming to think that such famous people have commented and praised my performance.
My audition day was an amazing day.  The way it went was completely unexpected, and if I could I would re-live it every single day!  I'd like to thank everybody who had supported me and I hope they continue to. I can't wait for the next round and I am really looking forward to seeing more of the show.
I feel as if I am dreaming because this is such an amazing experience and I hope I never wake up!
Filed under: Uncategorized