By Meghan McCain, daughter of U.S. Senator John McCain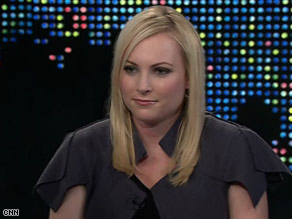 Karl Rove follows me on Twitter. That's creepy. I joined Twitter a few months ago; so far, it has been a liberating way to transition from political to personal blogging. It's allowed me to share the less-serious aspects and humorously uncensored moments of my life. But there's also been a downside: I am now being followed by Karl Rove, and my local sheriff, and God knows how many other political pundits. We need to take Twitter back from the creepy people.
On the surface, Karl Rove's Twitter feed intrigues me. Here's a guy who for years has been perceived as some kind of inaccessible man-behind-the-curtain figure. And now he Tweets numerous times a day. I've never met him in person, which only makes our Twitter relationship even weirder. And to be honest, I find Rove's Tweets boring. Sometimes he takes questions; other times he talks about his appearances on cable news and other shows. But he doesn't say anything substantive. If I had to guess, I'd say Rove has a "ghost Twitterer" (as in a ghost writer) or an assistant updating his feed for him.
Oddly enough, Rove's Tweets seem to reveal a softer side to him. Call it savvy marketing, but I find it disingenuous. And it's a bit weird to think his people—not even Rove himself—are following me. I'd like to think it's because they find what I'm saying entertaining, but I can't help thinking they're just trying to seem connected to young people.
Filed under: Karl Rove • Meghan McCain