Donald Trump visited "Larry King Live" on Wednesday night to tout his new book, "Think Like a Champion." In a wide-ranging interview, Trump shared his thoughts on how to prosper in this economy, Bernie Madoff, how President Obama is doing, taxes and his daughter's love life.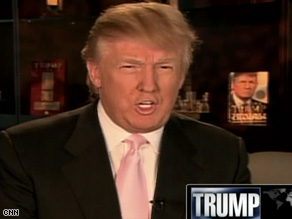 King: Why [is it a] good time for an entrepreneur and not necessarily for others?
Trump: Well, this is a time for smart people. This is a time for entrepreneurial people. This is a great time for people like me - and maybe people like you, Larry, because I know you're a great investor. ...
Weren't you involved with [Bernie] Madoff?
King: A little bit, yes. You weren't, huh? How did you resist him?
Trump: Honestly, I got lucky. He might have duped me like he did a lot of other people. He is a disaster. But now he's where he belongs.
King: With troubled times like this for the average guy, is this the time to think like a champion?
Trump: This is the best time to think like a champion. As an example, the house is being foreclosed. You go see your bank - maybe you can make a deal, maybe you can't. But you can make a deal with a bank on another house, and much better than the one you're living in. ... They'll do any deal to get rid of their product.
They have houses by the thousands. And you go see that bank and you make a deal.
Filed under: Larry King Live • Trump