By Meghan McCain, daughter of U.S. Senator John McCain
This week, I will be speaking at the Log Cabin Republicans' national convention in support of the gay community and its role in the future of the Republican Party. Of all the causes I believe in and speak publicly about, this is one of the ones closest to my heart.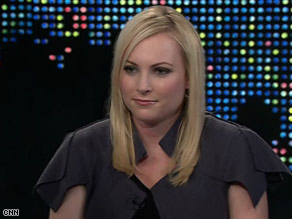 The Log Cabin Republicans' mission "is to work within the Republican Party to advocate equal rights for all Americans, including gays and lesbians." The group is centered on core Republican values, such as limited government, individual liberty and responsibility, an economy based in free markets, and a strong national defense. And in the spirit of the GOP's founding beliefs—personal freedom and liberty—they are dedicated to securing full equality for gays and lesbians in America to create a stronger, larger, and more-unified GOP.
What I found most interesting about the Log Cabin Republicans is where and when they got their start: in California, during the late '70s. At the time, much of the progress made in securing equal rights for gays was drawing a backlash.
Filed under: Meghan McCain