Madonna's petition to adopt a second Malawian child was rejected by a local judge Friday, an official said.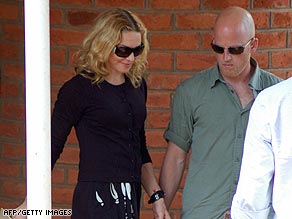 "The decision came down to residency requirement and the fact that the judge believes she was being well taken care of in the orphanage," said Zione Ntaba, a spokeswoman for the Malawi Justice Department.
"For the Malawians, the fact that the child is at an orphanage, is being taken care of and is going through the school education system, that does qualify as the best interests of a child," Ntaba added.
The 50-year-old pop star had filed a petition to adopt a girl, Chifundo James, 4, whose first name translates to mercy in Chichewa, the country's national language. She has three other children, including a son she adopted from the southern African nation in 2006.
Filed under: Adoption • Madonna