There was a time when airline travel was a special treat, the kind of occasion that inspired passengers to dress up.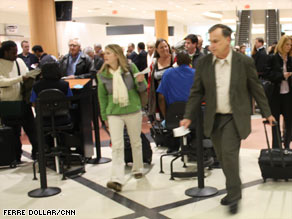 Now, the awe people once felt about flying through the clouds is tempered by additional fees, cramped seats and horrifying tales of fellow travelers - such as the one about a man dubbed "Mr. Poopy Pants."
"We've all had our flying hell experiences," said Gregg Rottler, creator of FlightsFromHell.com.
The site provides a venue for people to share their tales of woe, said Rottler. "It's therapeutic ... so it benefits them and provides entertainment value for others."
Rottler, a 54-year-old environmental health supervisor in Tampa, Florida, launched the site more than two years ago. Since then, FlightsFromHell.com has attracted submissions from passengers and flight attendants that have run the gamut, touching on categories that include "odors," "attendant issues," "weird people," and "luggage and delays."
Filed under: Airline Industry