Madonna will hear Friday whether she will be allowed to adopt a child from Malawi, a spokeswoman for the poor African nation's attorney general told CNN Monday.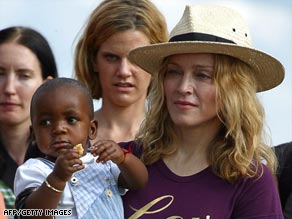 The singer should appear in person to hear the judge's decision, said Zione Ntaba, press officer for the Attorney General's Office of Malawi. She was in court for Monday's hearing where Ntaba said the judge read documents and questioned the parties.
An uncle of the 4-year-old girl Madonna wants to adopt was scheduled to sign adoption papers Monday, according to Martin Geissler, a reporter for the ITN television network who is in Malawi, but he does not appear to have been at the court.
The singer, who adopted her son, David Banda, from Malawi in 2006, arrived in the impoverished country Sunday.
She was seen walking through the village of Chinkhota with her daughter Lourdes, 12, after touching down at the airport in Lilongwe.
Filed under: Madonna