By Karl Rove, former adviser to President George W. Bush
Something powerful is stirring in the land, and it may not be good news for President Barack Obama, his agenda or the Democratic Party. Mr. Obama said Tuesday night his budget moves America "from an era of borrow and spend" to "save and invest."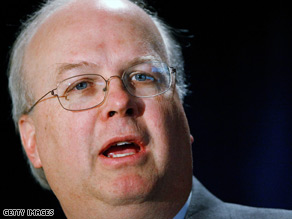 But people are realizing he would add $9.3 trillion to the national debt, doubling it in six years and nearly tripling it in 10 years, according to the Congressional Budget Office (CBO). How can that be "save and invest"?
In his inaugural address, Mr. Obama told us, "The stale political arguments that have consumed us for so long no longer apply." He wants to turn to new issues of education, health care and green jobs, which he plugged at every opportunity in Tuesday's press conference.
Suddenly, though, it doesn't seem like a time of new politics and new concerns. Many Americans are anxious - and in some cases angry - about a set of old issues: deficits, taxes and the national debt. Mr. Obama's radical budget, his administration's slapdash operating manner, and events such as the AIG bonuses have revived animosity over government's size and cost.
In response, tea parties are sprouting up, and opposition is growing to more bailouts, more spending, higher taxes and larger deficits, even among Congressional Democrats.
Filed under: Karl Rove