Note: We'll be discussing this tonight on LKL - as the war on drugs heats up in Mexico, are you worried it may spill over into the U.S.?  Let us know!
President Obama on Tuesday vowed to invest the resources needed to address the threat posed by drug traffickers in Mexico.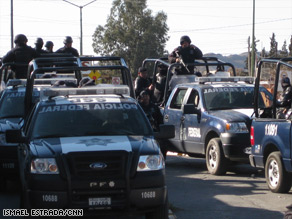 "We are going to continue to monitor the situation, and if the steps we have taken do not get the job done, then we will do more," he told reporters Tuesday night.
He praised the efforts of Mexican President Felipe Calderon to counter drug cartels, which "have gotten completely out of hand," but said the United States must take further steps, such as ensuring that illegal guns and cash do not flow from north of the Rio Grande to the cartels in Mexico.
"That's what makes them so dangerous," he said.
Obama's remarks came hours after Homeland Security Secretary Janet Napolitano announced that the United States is sending hundreds of federal agents and crime-fighting equipment to the border.
Filed under: Larry King Live • Mexico • President Obama