The GOP's identity crisis just got more interesting with the media splash of Meghan McCain, daughter of the senator who did not become president.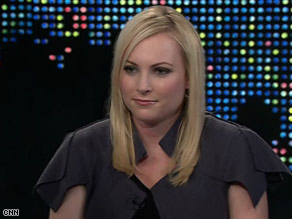 Young McCain, who began blogging during her father's presidential campaign, recently made waves at the Daily Beast when she picked a fight with conservative media mavens Ann Coulter and Laura Ingraham.
This is enough sport to make the little dog laugh, to say nothing of the dish and the spoon.
McCain, just 24, is one smart cookie. In a matter of weeks, she has created a brand, presenting herself as a fresh face of her daddy's party and a voice for young conservatives. Strategically speaking, what better way to launch herself than to challenge the reigning diva herself, Miz Coulter?
Madonna, meet Britney.
McCain jammed traffic on Tina Brown's site with her charge that Coulter is bad for the party. In a voice that is sometimes, alas, reminiscent of a coed's tweet, she wrote: "I straight up don't understand this woman or her popularity. I find her offensive, radical, insulting, and confusing all at the same time."