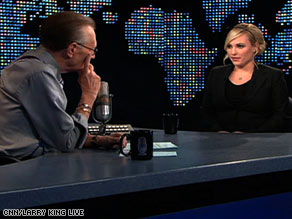 Meghan McCain, a contributor to TheDailyBeast.com, is the daughter of Sen. John McCain and Cindy McCain. But it's her recent verbal sparring with conservative Republicans that's put her in the spotlight and she spoke about it last night on LKL!!
Larry King: [President Obama] is taking some criticism for smiling and laughing [during his "60 Minutes" interview.] Are you one of those critics?
Meghan McCain: You know, I actually am not. I think anyone that would possibly think that the president is not taking the economy seriously - I just think it's ridiculous. ...
King: [Is President Obama getting overexposed]?
McCain: I think he is on the verge of it. I do think you have to be careful. But it is a different generation. [My] generation ... we like our celebrities. And I think that he realizes that because he is very much a Generation Y president. However, he is on the risk of alienating his older followers.
King: Does Obama seem like the same guy who ran against your dad? How do you view him?
McCain: He's our president and when the election was over and when President Obama won, all negative feelings were gone. I support the president.
King: How does your dad feel about that?
McCain: I think the same way. You know, my family is really good at letting go of things and moving on. And he just holds no grudges.
King: Do you think most of the people in your party agree with [Rush] Limbaugh? Do they want him to fail?
McCain: I don't know, because there are many different personalities within the party. ... I would never want my president to fail, no matter which party is in power.
Filed under: Larry King Live