By Rep. Barney Frank, D-MA
Memory eventually fails us all, but apparently the decline strikes one party far more than the other.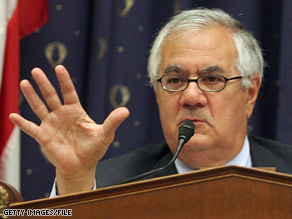 In recent weeks, my friends across the aisle have expended a lot of breath proclaiming that the Democrats caused the present financial crisis by failing to pass legislation to regulate financial services companies in the years 1995 through 2006.
There is only small one problem with this story - throughout this entire period the Republicans were in complete charge of the House and for the most critical years they controlled the House, the Senate, and the Presidency.
In the House of Representatives, the majority party has almost unlimited power over the minority party. The majority party owns the committee chairmanships; it controls what bills come to a vote; and it is under no obligation to consider the ideas of the beleaguered minority. When the Republicans were in the majority they ruled with an iron first; it is no accident that Tom DeLay was known as "The Hammer."
That is why I find it particularly flattering the Republicans now claim that in the years 1995 to 2006 I personally possessed supernatural powers which enabled me to force mighty Republican leaders to do my bidding. Choose your comic book hero - I was all of them.
I wish I had the power to force the Republican leadership to do my bidding! If I had had that power, I would have used it to block the impeachment of Bill Clinton, to stop the war in Iraq, to prevent large tax cuts for the extremely wealthy, and to stop government intervention into the private life of Terri Schiavo. Yet that power eluded me, and I was unable to stop those things.
Read more of congressman Frank's commentary here
Filed under: Rep. Barney Frank