By political columnist Tucker Carlson via The Daily Beast
Jon Stewart's recent attack on CNBC's Jim Cramer was so brilliantly performed, so smoothly produced and cruelly compelling, almost nobody noticed that it didn't make sense. The climax came as Stewart put up a number of grainy clips of Cramer describing how to artificially (and unethically) depress a company's stock price. The video was damning. Cramer looked sweaty.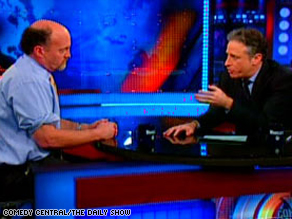 Stewart summed up the significance of what Cramer had said on the tape: "You can draw a straight line from those shenanigans to the stuff that was being pulled at Bear and at AIG, and all this derivative market stuff," he said sternly.
Except that you can't draw any such line. In the video, Cramer hadn't mentioned derivates or securitized loans or credit default swaps, or any of the other exotic financial instruments that caused the fall of AIG and the current recession. There's no evidence that Jim Cramer had anything to do with any of that, and Stewart didn't offer any.
Before Cramer could defend himself, Stewart moved on to a new charge: Cramer and his colleagues at CNBC had known that the financial sector was in imminent danger of collapse, but had pretended otherwise—a ruse that Stewart described as "disingenuous at best and criminal at worst."
Filed under: Economy