Nadya Suleman, who gave birth to octuplets in January, brought two of her babies home from the hospital late Tuesday.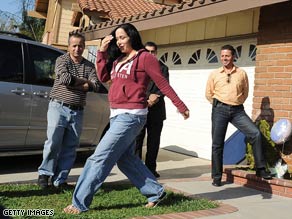 She brought the infants to her new house in La Habra, California. Members of the media and gawkers crowded the cul-de-sac, as news helicopters hovered overhead. Media swarmed the family's vehicle as it slowly made its way through the crowd, into the home's garage.
The babies discharged from the hospital were Noah Angel, known as Baby A, and Isaiah Angel, known as Baby C, according to the Kaiser Permanente Bellflower Medical Center.
The medical team that delivered the babies identified them by letters of the alphabet. On discharge, Noah weighed 5 pounds, 13 ounces, and Isaiah weighed 5 pounds, the hospital said in a news release.
"Both infants are able to bottle feed, are gaining weight and are able to maintain their body temperature," the release said.
Filed under: Octuplets