Donald Trump, chairman and president of The Trump Organization and the executive producer of NBC's "Celebrity Apprentice," spoke with LKL last night about the public's furor with AIG, the Bernie Madoff saga and the nation's economic woes.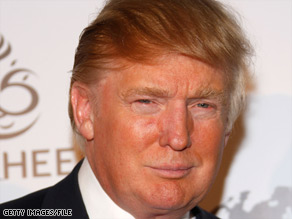 Here's a portion of the interview:
Larry King: We have public anger over the AIG bonuses. Is it justified?
Donald Trump: Well, it's unbelievable anger. I heard people saying things that you wouldn't even believe - a very major senator saying that the people that did this should commit suicide. That's a pretty strong statement, I would say.
It is very bad politics in terms of what AIG did. They took $165 billion in money from the government and now they're going around giving out bonuses and giving people bonuses that really, in many cases, did not do a very good job and, in many cases, took the bonus and left right after the bonus. The bonuses were supposed to hold these people together and hold them into the company.
I think it's a very, very foolish thing that they did, and certainly should have used a different name if they had to do something.
King: We - the collective we - we the people, own 80 percent of AIG. Should we allow it to fail?
Trump: Well, Larry, now that you're in for $160 billion, it's a lot harder to walk away. I think AIG has the politicians right where they want them. Frankly, I think letting Lehman fail was far worse than letting AIG fail.