Former Vice President Dick Cheney on Sunday defended the Bush administration's economic record, the invasion of Iraq and the treatment of suspected terrorists, warning that reversing its anti-terrorism policies endangers Americans.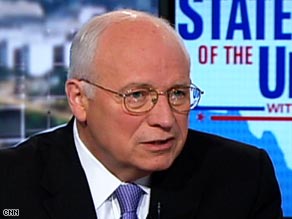 In an interview with CNN, Cheney said the harsh interrogations of suspects and the use of warrantless electronic surveillance were "absolutely essential" to get information to prevent more attacks like the 2001 suicide hijackings that targeted New York and Washington.
"President Obama campaigned against it all across the country, and now he is making some choices that, in my mind, will, in fact, raise the risk to the American people of another attack," he said.
Critics said the Bush administration's "alternative" interrogation techniques amounted to the torture of prisoners in American custody, while the administration's warrantless surveillance program violated federal laws enacted after the Watergate scandal.
Filed under: Vice President Dick Cheney