The Southern California mother of octuplets was given a baby shower of sorts on television's Dr. Phil show, with cribs, bunk beds, upgrades to her new home and nursing help to care for her 14 children – all provided free of charge.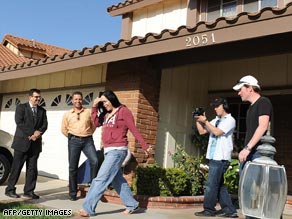 Various providers appeared before Dr. Phil McGraw's applauding studio audience to pledge their help creating a safe, clean home for Nadya Suleman's 14 children.
Suleman said she's grateful for the help, which is to include a new nursery, new flooring and other construction upgrades in the La Habra (Orange County) home she intends to live in with her children.
The fixes are being made in order to prepare the home for inspections from hospital officials, which determine whether the house is suitable for children, according to McGraw.
Kaiser Permanente Bellflower Medical Center spokeswoman Beth Trombley said she and a social worker from the hospital walked through the house Wednesday to provide recommendations, but would not specify what they were.
Filed under: Dr. Phil McGraw • Octuplets