House Democratic aides denied Wednesday that work is already underway on a second stimulus package.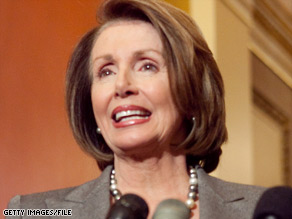 The pushback came a day after House Speaker Nancy Pelosi suggested more stimulus spending might be needed, and the top Democrat on the Appropriations Committee said he had already instructed his staff to begin working on a bill.
But multiple Democratic aides told CNN another stimulus plan is not in the works, and that Democratic leaders believe they need time to assess whether the first recovery package is effective before taking up another bill.
One leadership aide said House Appropriations Chairman David Obey of Wisconsin got ahead of himself when he told CNN Tuesday evening that his committee was considering another stimulus package, though he had cautioned there was no timeline for moving it.
This aide said House Democratic leaders are letting the current stimulus play out, and that it will be "at least several months, as we get toward the end of the year and see where we are" before they would consider another stimulus bill.
Filed under: Congress • Economy