Octuplets mother Nadya Suleman shared details of the impending homecoming of her babies with TV viewers – and admitted that her decision to have eight additional children, when she already had six, didn't make sense.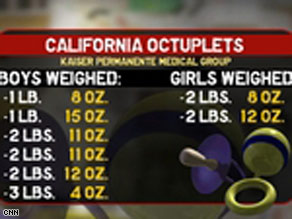 "It wasn't a realistic thing to do," she told Dr. Phil on a segment of his show Tuesday. "I wasn't thinking rationally at the time."
On the show, Suleman, 33, revealed that the first two of her octuplets would be coming home in a few days, once her recently-purchased home in La Habra, Calif., is ready for her massive brood. She explained that she's going to have the den of her four-bedroom house transformed into a nursery. For the first few months, only four cribs will be used, each one holding two infants in an effort to promote bonding between the siblings.
Filed under: Octuplets