LKL BLOG EXCLUSIVE with Women For Hire's Tory Johnson on tips to getting a job – NOTE: Tory will be our guest tonight on LKL!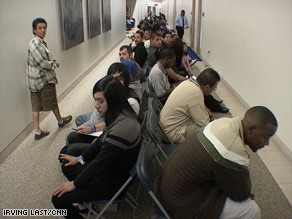 In this challenging economy, you need two things to get hired: great credentials to match an employer's needs, plus exceptional skills as a jobseeker. Most people can check the first one off their list, but they fumble with the second requirement. That keeps them out of work longer than desired.
When I was fired from a job I loved, I was angry, furious, and miserable. I was convinced it was unfair and I wondered why others hadn't gotten the ax instead of me. That negativity kept me locked inside my apartment for weeks and weeks. I didn't want to face my friends and former colleagues because I was embarrassed to be out of work.
Once I realized I needed all of those people to help me land my next position, especially as my bank account balance was quickly dwindling, I was ready to come out of hiding.
Unless you're willing to maximize your current connections-and make new ones-you'll have trouble finding work today. Networking works, I promise.
Having the right attitude-one that's full of optimism, hope and self-confidence, even amid the doom and gloom headlines-is also essential when you're jobsearching. Nobody wants to help or hire a naysayer.
When you find potential openings, you must submit targeted resumes. Generic documents will never get a response. Beyond that, you have to follow up to every submission. Those postings that say "no calls" are designed to avoid having you call to ask if your resume has been received. However, you can call to express why you're ideally suited and, more importantly, you can find an internal referral who'll put in a good word for you. That's often the difference between having your resume seen or ignored.
Even with the highest unemployment in a quarter century, I witness successful hires just about every day. I travel the country weekly to see firsthand who's hiring and what's out there. Are the jobs easy to come by? No. Are they available in abundance? Definitely not. But they do exist and the two links below offer access to a wide range of job search tips to help you land one. Check out the ideas and opportunities to help you connect with potential employers. You need just one yes...and I'm rooting for your success.
Tory Johnson is CEO of Women For Hire (www.womenforhire.com), Workplace Contributor on ABC's Good Morning America (www.abcnews.com/toryjohnson) and New York Times bestselling co-author of Will Work From Home: Earn the Cash Without the Commute.
Filed under: Economy • Tory Johnson