by Christopher Buckley
One feels almost unpatriotic, entertaining negative thoughts about Obama's grand plan. But it is far from clear that spending oceanic sums of money is the right corrective.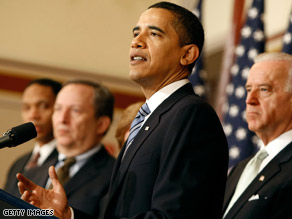 That was, as Tom Lehrer would say, the week that was. President Barack Obama gave his first State of the Union speech. Governor Bobby Jindal gave his first and possibly last Republican response. The president presented a $3.6 trillion budget, and announced that we are getting out of Iraq but not really. And Rush Limbaugh gave—as he put it, fun intended—his first nationally televised address to the nation.
Hold on—there's a typo in that paragraph. "$3.6 trillion budget" can't be right.The entire national debt is—what—about $11 trillion? He can't actually be proposing to spend nearly one-third of that in one year, surely. Let me check. Hmm. He did. The Wall Street Journal notes that federal outlays in fiscal 2009 will rise to almost 30 percent of the gross national product. In language that even an innumerate English major such as myself can understand: The US government is now spending annually about one-third of what the entire US economy produces. As George Will would say, "Well."
READ MORE OF Buckley's commentary HERE
Filed under: President Obama