During the most contentious stretch of the Democratic presidential primary campaign last winter, then-candidate Hillary Clinton mocked Barack Obama for his pledge to transcend Washington's entrenched partisanship.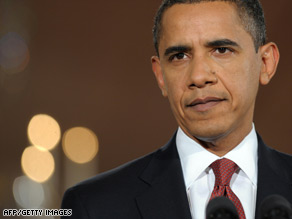 "The sky will open. The lights will come down. Celestial choirs will be singing and everyone will know we should do the right thing and the world will be perfect!" Clinton bellowed.
Obama dismissed Clinton's sarcasm as overly cynical and further evidence she was a creature of Washington. But as President Obama prepares to make his first major address to Congress, Clinton's comments are borne out.
For a candidate who won the White House on a mantle of bringing the country's two political parties together, Washington could not be more divided on Obama's initial weeks in the Oval Office and the policies he has put in place.
Depending on who you ask, in 30 days the new president has either rescued the nation's economy from financial ruin or set in motion the most liberal government in a generation, and one that's likely to prolong - perhaps even prevent - the country's economic recovery. 
Filed under: Hillary Clinton • President Obama