By political commentator Tucker Carlson/The Daily Beast
Wasn't this supposed to be a speech about the stimulus bill? In his first month in office, Barack Obama pushed through the largest expansion of government in human history, yet never bothered to explain precisely how all that spending was going to fix the economy. Tonight was going to be his opportunity to do that, to reassure us that the American Recovery and Reinvestment Act of 2009 is more than a haphazard collection of pork and payoffs. But he never did.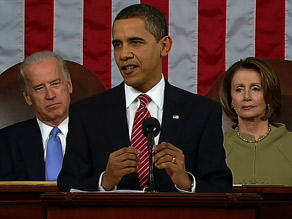 Instead, like George W. Bush in the runup to the Iraq war, Obama used fear to silence doubters: "I can assure you that the cost of inaction will be far greater, for it could result in an economy that sputters along for not months or years, but perhaps a decade." Obey, or we get a depression.
And, like the masterful politician he is, Obama sprinkled the speech with enough sweeteners to trigger diabetes: Massive new spending and deficit reduction at the same time. Tax cuts for you, tax increases for people you've never met. Peace between Israel and the Palestinians. The end of cancer.
Literally: the end of cancer.
The list went on. How much of this can we believe?
Filed under: President Obama