George W Bush will embark next month on an international speaking tour aimed at making him hundreds of thousands of dollars and reshaping his battered image abroad.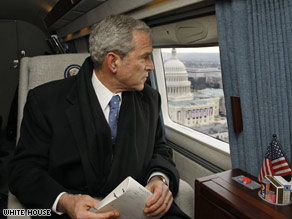 The former president plans to make about ten speeches over the next year — the first of what he hopes will be many more — at various venues in the US, Canada, Europe and Asia.
Mr Bush promised at his final news conference that he would keep busy as soon as he left office. He is also working on a book about his eight tumultuous years in the White House and his presidential institute. Its central theme will be liberty.
He will deliver his first speech on March 17 in Calgary, Canada. It will be held in a convention centre before a mostly business audience, and the press will not be allowed to attend. The brochure promoting it reads: "President during a period of great consequence, George W Bush shares thoughts on his eight momentous years in the Oval Office and discusses the challenges facing the world in the 21st century."
Filed under: President Bush