A national poll indicates that two-thirds of those who watched President Barack Obama's address to a joint session of Congress on Tuesday night had a very positive reaction to his speech.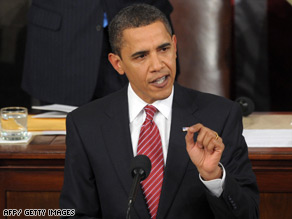 Sixty-eight percent of speech-watchers questioned in a CNN/Opinion Research Corp. survey had a very positive reaction, with 24 percent indicating that they had a somewhat positive response and 8 percent indicating that they had a negative reaction.
Eighty-five percent of those polled said the president's speech made them more optimistic about the direction of the country over the next few years, with 11 percent indicating the speech made them more pessimistic.
Eighty-two percent of speech-watchers said they support the economic plan Obama outlined in his prime time address, with 17 percent opposing the proposal.
Do you agree with this poll – leave your comment and let us know!
Filed under: President Obama