by columnist Jonah Goldberg
Here's something President Obama's biggest fans may need to hear: He's just not that into you.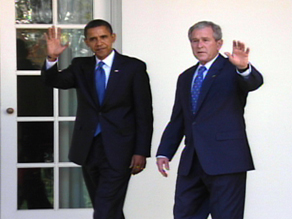 Recall that during the primaries, Obama was probably second only to Dennis Kucinich as an anti-Iraq war and anti-Bush candidate. But he has kept President Bush's Defense secretary and appointed a secretary of State, Hillary Rodham Clinton, who voted for the war. His vice president, Joe Biden, also voted for the war. Obama himself seems to be in less of a hurry to leave Iraq than we might have expected from listening to him over the last couple of years. 
The new president has ordered that his predecessor's rendition policies remain largely intact, even to the point of using the "state secrets" privilege to block a rendition lawsuit. Obama may have stated categorically that America "will not torture," but outsourcing it is still OK. 
The White House also defends the Bush policy of imprisoning, without trial, enemy combatants captured abroad. Obama's lawyers argued in a court case brought by Afghan prisoners at the U.S. Air Force base at Bagram, Afghanistan, that the "government adheres to its previously articulated position" - the one articulated by those evil Bush lawyers. 
Filed under: Larry King Live • President Obama