By Bloomberg columnist Margaret Carlson
By this time in an election cycle, a losing vice-presidential candidate is less than the proverbial warm bucket of spit.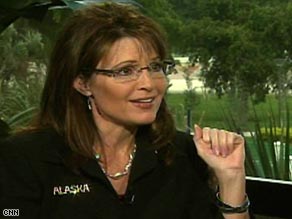 Quick, who was Michael Dukakis's running mate? Bob Dole's? Now close Google. Lloyd Bentsen and Jack Kemp, respectively. Franklin Delano Roosevelt is the only losing vice- presidential candidate in history to eventually become president.
The poor odds aren't discouraging Alaska Governor Sarah Palin. After the Republican ticket took a shellacking at the ballot box, a Rasmussen Reports poll at the end of January found that 55 percent of Republican voters wanted their party to become more like Palin, making it even harder to keep her down on the tundra. That day she formed SarahPAC to fund her travels around the country.
Hardly a day passes when she isn't attracting a camera. Watch as Palin pardons a turkey for Thanksgiving. (Ignore the one being put through a wood chipper behind her.)
Filed under: Uncategorized