British reality TV star Jade Goody married Sunday after being told by doctors last week that her cancer is terminal.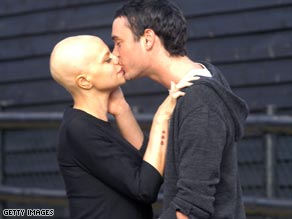 Goody, 27 tied the knot with boyfriend Jack Tweed, 21, in Hatfield Heath, Essex, east of London, UK media reported.
After the ceremony Max Clifford, the couple's publicist, told waiting reporters that there had been "lots of tears and smiles and laughter" and that the congregation gave the newlyweds a standing ovation after the signing of the register.
Goody sprung to fame in "Big Brother" in 2002, going on to launch a range of her own products and host TV shows.
But her return to the celebrity edition of the show in 2007 ended in international ignominy, after her taunting of Indian Bollywood star Shilpa Shetty. Goody's behavior resulted in more than 40,000 complaints and sparked protests in India.
Filed under: International • Larry King Live