Hillary Rodham Clinton's blunt and unadorned style of diplomacy has been evident throughout her first trip as secretary of state the past week in Asia. She questioned the efficacy of sanctions against the repressive junta in Burma, spoke openly about a possible succession crisis inNorth Korea and admitted that she expected to make little progress on human rights in China.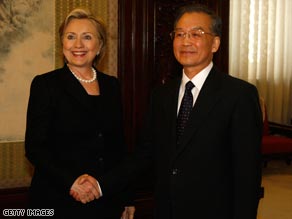 To a certain extent, these comments crossed taboo lines in international diplomacy. U.S. officials generally do not say their sanctions have failed, or speculate about the future government of another country, or suggest that a carefully watched human rights dialogue is largely a farce.
Clinton's willingness to speak frankly - combined with an extensive effort to get beyond ministerial meetings in order to hold town hall meetings and conduct local television interviews in the countries she visits - suggests she will put a distinctive personal stamp on the Obama administration's foreign policy. What is emerging is something less rigid, less cautious and more open.
Before her meetings in Beijing, for instance, Clinton said she would raise human rights issues with Chinese officials, "but we pretty much know what they're going to say."
Clinton's comments have stirred outrage in the human rights community, where she was viewed as a hero for having confronted the Chinese government in 1995 over its record. Activists say that without public, sustained international pressure on human rights issues, nothing will change in China.
Filed under: Hillary Clinton