It was a night for neon pink bow ties and words like "disaster" and "monstrosity." It was not the night, however, to be Paris Hilton, Mike Myers or Uwe Boll.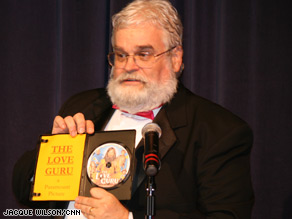 The 29th Annual Golden Raspberry Awards honored the worst film achievements of the year in a small theater in Hollywood on February 21. The night opened with a parody of the "Mamma Mia" song, "Dancing Queen," and ended with "Love Guru" being named worst picture.
"It wasn't just the economy that tanked, so did the qualities of the movies being offered," Razzie founder John Wilson told CNN several weeks before the show. "I would suggest putting away all sharp [instruments] before putting the DVDs in your machine."
Paris Hilton and Mike Myers came out on top - or bottom - for the awards. Hilton earned both the worst actress and worst supporting actress awards for her roles in "Hottie & the Nottie" and "Repo: The Genetic Opera." She was also awarded worst screen couple for her on-screen time with her co-stars Christine Lakin and Joel David Moore.
Filed under: Entertainment • Hollywood