After the president of Harvard hailed him as a "national leader but a local servant," after the pastor read the "Let us now praise famous men" passage from the Bible and after the cellist Yo-Yo Ma honored him by performing a Gershwin prelude, Senator Edward M. Kennedy lumbered across the antique stage.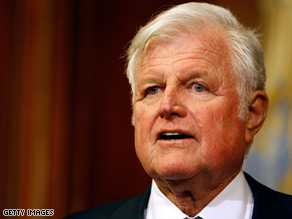 "I have lived a blessed time," Mr. Kennedy told the audience at a special honorary degree convocation at Harvard in December. His voice started shaky, but gained strength. "Now, with you, I look forward to a new time of high aspiration for our nation and the world."
As the crowd rose, Mr. Kennedy waved buoyantly, as if trying to acknowledge everyone he saw: a special fist pump for his former staff member, Justice Stephen G. Breyer of the Supreme Court; a salute in the direction of Vice President-elect Joseph R. Biden Jr.; a thumbs-up for his niece Caroline Kennedy.
Mr. Kennedy's wife, Vicki, tried to lead him off, but he broke away, grinning. For a few extra moments, he kept the stage.
Since the diagnosis of his brain cancer last May, Mr. Kennedy has been given all manner of tributes and testimonials, lifetime achievement awards, medals of honor and standing ovations. But even as those accolades have provided sweet solace — and even some dark humor — as he endures grueling treatments, Mr. Kennedy, who turns 77 on Sunday, has been intent on racing time rather than looking back on it.
Filed under: Ted Kennedy