Dr. Jane Miller remembers the first - and the last - time she implanted four embryos into a patient getting in-vitro fertilization.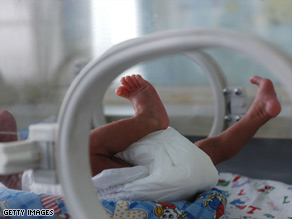 "It was 1999, and we got triplets, and I said, 'My God, never again,' " remembers the fertility expert in Englewood Cliffs, New Jersey. "The human uterus is meant to carry only one at a time."
Since then, Miller says, she implants only one or two embryos; on "very, very rare" occasions she'll implant three. When she heard Nadya Suleman, the mother of octuplets in California, say her doctor had implanted six embryos, she was outraged.
Miller is not alone. Fertility experts around the country say there's never a reason to implant six embryos. It's risky, and it's way outside the scope of normal practice: Data from the Centers for Disease Control show that on average, fertility doctors implant 2.3 embryos into women under age 35.
Why, then, did Suleman's doctor implant so many embryos?   READ MORE HERE
Filed under: Octuplets