Los Angeles police have launched an internal investigation to determine who leaked a picture of a bruised and battered Rihanna to the media.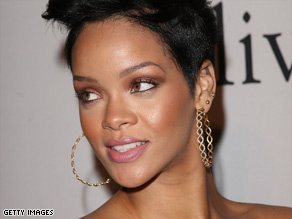 The close-up photo of the R&B singer - with contusions on her forehead and below her eyes, and cuts on her lip - was published on the entertainment Web site TMZ on Thursday. SEE THE PICTURE HERE
Rihanna, 21, was allegedly attacked by her boyfriend, singer Chris Brown, on a Los Angeles street before the two were to perform at the Grammy Awards on February 8.
"The unauthorized release of a domestic violence photograph immediately generated an internal investigation," an L.A. police spokesman said in a statement. "The Los Angeles Police Department takes seriously its duty to maintain the confidentiality of victims of domestic violence. A violation of this type is considered serious misconduct, with penalties up to and including termination."
Filed under: Hollywood • Larry King Live