The California home where Nadya Suleman plans to raise her 14 children is at risk of foreclosure, CNN affiliate KTLA reported Wednesday.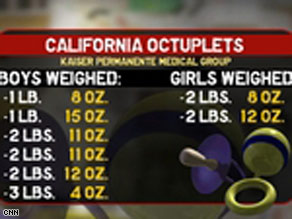 Los Angeles County property records show a notice of mortgage default was filed Feb. 9 against the home of Suleman's mother, Angela Suleman, the station reported.
Angela Suleman is $23,225 behind in her mortgage payments and the three-bedroom house could be sold at an auction beginning May 5, documents say.
Suleman has said that she was raising her six children in her mother's home and planned to raise her newborn octuplets there.
Filed under: Octuplets