acing public outrage over revelations that she supports her family with the help of food stamps and claims that she is fixated with Angelina Jolie, Nadya Suleman tells PEOPLE that she's turning to "a greater strength" to cope with her sudden notoriety.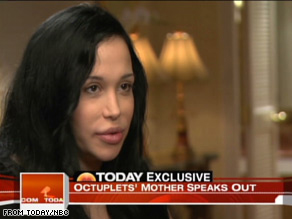 The California mother of octuplets says she hopes the media frenzy will soon die out and allow her to focus on raising her eight new babies, born Jan. 26, along with her six older children. "Next week it will be okay," she tells PEOPLE, peering outside at a group of reporters camped in front of her Whittier, Calif., home. "No one will be out there, I'm hoping." 
Suleman also rejected claims that she is obsessed with Jolie. "All lies. I have no interest in her. None," she says. "I've never been a fan of anybody famous. Now I kinda have a taste. But it's not being famous – it's being infamous. It's a nightmare." 
Filed under: Octuplets