by actor Chuck Norris
There they go again! The House and Senate have buried us in yet another bailout-stimulus heaping pile of fiscal dung - a $789 billion loan that has been tacked onto our children's (and children's children's) already staggering $10-plus trillion deficit. Are you just going to sit there and take another one up the tailpipe?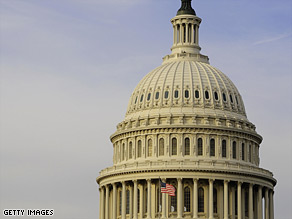 Though President Obama emphatically declared that this 1100-page piece of legislation does not contain "a single pet project, not a single earmark," it's full of some type of financial fluff.
Call it what you will, but few knew recessionary needs included $2 billion for battery companies, $2 billion for the National Parks Service, $2.3 billion for NASA and the National Science Foundation, $1.1 billion for airport improvements, $850 million for Amtrak, $800 million for federal prison construction, $300 million for additions to the federal fleet, $200 million for new Department of Agriculture buildings, $165 million for fish hatcheries, $100 million for the FBI, $100 million for shipyards, $50 million for an arts endowment, etc. (A detailed list of the stimulus package expenditures can be reviewed on the website of Patton Boggs legal firm at http://www.pattonboggs.com.)
(Read more of Chuck Norris' commentary HERE)
Filed under: Chuck Norris • Congress