Note: We've got some key guests tonight on LARRY KING LIVE in the Madoff investigation – tune in at 9pmet and let us know your thoughts!
By Paul Krugman, NY Times columnist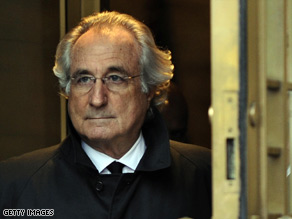 By now everyone knows the sad tale of Bernard Madoff's duped investors. They looked at their statements and thought they were rich. But then, one day, they discovered to their horror that their supposed wealth was a figment of someone else's imagination.
Unfortunately, that's a pretty good metaphor for what happened to America as a whole in the first decade of the 21st century.
Last week the Federal Reserve released the results of the latest Survey of Consumer Finances, a triennial report on the assets and liabilities of American households. The bottom line is that there has been basically no wealth creation at all since the turn of the millennium: the net worth of the average American household, adjusted for inflation, is lower now than it was in 2001.
(Read more of Krugman's commentary HERE)
Filed under: Bernard Madoff • Larry King Live