Note: We'll be talking about this TONIGHT on Larry King Live – stay tuned to the LKL blog for more!
A former British soldier killed himself after losing his life savings in Wall Street financier Bernard L. Madoff's alleged $50 billion fraud scheme, according to the man's family.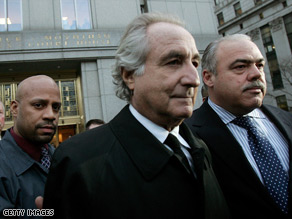 William Foxton, 65, a decorated soldier who lost an arm during his military service and worked on United Nations humanitarian missions, died from a single bullet wound to the head Tuesday in the southern English city of Southampton, police said. He apparently walked to a park near his home, sat on a bench and fired the fatal shot.
Foxton's son Willard told reporters that his father recently discovered that his life's savings, estimated at more than $1 million, which he invested in two hedge funds, had then been poured into Madoff's fund.
Filed under: Bernard Madoff • Larry King Live