Nadya Suleman, the single mother of newborn octuplets, is using the Internet to help support her family of 14 children. She's started a Web site seeking donations.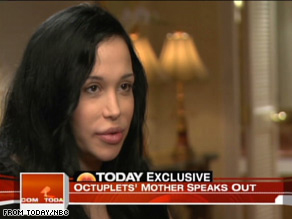 The Web site features pictures of a rainbow, child's blocks and all eight of Suleman's newborns. Also prominently displayed on the Web site is a prompt for visitors to make a donation, noting that the "proud mother of 14" accepts Visa, MasterCard, American Express, Discover and PayPal.
Suleman, 33, had the octuplets through fertility treatments, despite already having six young children and no clear source of income.
Filed under: Octuplets