Join us tonight when we talk to BILL MAHER!!  A lot to discuss, but he'll definitely want to weigh in on this one.
Today, the world commemorates the 200th birthday of a man who single-handedly revolutionized biology with an explosive theory that challenged the core of our existence.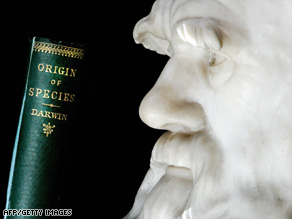 "Darwin wrote about who we are," said historian and author James Moore, who has cowritten a new book on the famous evolutionist. "He gave us a re-interpretation of the history of humans on earth, and what we can become."
Darwin's theory of evolution proposes that humans evolved over millions of years from animal species, specifically apes. Such thinking, which challenged the biblical account that a deity created the Earth in six days, was considered radical, even blasphemous, when Darwin published it in 1859.
Filed under: Bill Maher • Larry King Live