by Bill and Melinda Gates
Like many Americans, we are impressed with the goals outlined in the Obama administration's economic stimulus package, goals that would promote short-term economic recovery but also jump-start needed reforms in key areas like public education, which in turn will accelerate long-term economic growth.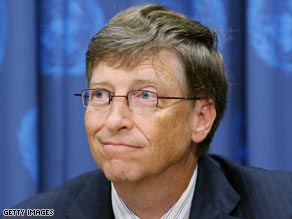 We need an economic stimulus that also stimulates American education.
After decades of leading the world in high school and college graduation rates, the United States is now falling behind. Our achievement levels are roughly flat over the past three decades while nations around the world are surging ahead. We are certain to emerge from the current economic crisis eventually, but it is just as clear that we will not retain our global economic leadership unless we regain our edge in education.
(Read more of the Gates' commentary HERE)
Filed under: Bill Gates