By Bill Schneider, CNN's Senior Political Analyst
With the departure of President George W. Bush, Republicans have a new rallying cry: "Back to basics!"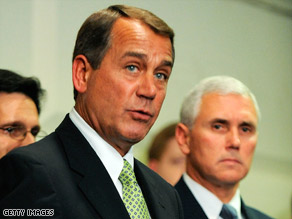 Nothing is more basic to the Republican philosophy than smaller government, a principle many Republicans believe got lost at the end of the Bush administration. "President Bush in the last few months has opened up the door to Mr. Obama's big-government activism," Ken Blackwell said earlier this month.
Blackwell, the former Ohio secretary of state, is one of six candidates running for the chairmanship of the Republican National Committee. Republicans believe they lost in 2006 and 2008 because they became a "me too" party. And Democrats can play that game better.
"Republicans blew it on spending, but now Democrats are on steroids with spending," says Rep. Zach Wamp, R-Tennessee.
(Read more of Schneider's commentary HERE)
Filed under: Larry King Live • Politics