by CNN Senior Political Correspondent Candy Crowley
Democrats hold a strong majority in Congress, but with power comes a power struggle, and a potential headache for President Obama.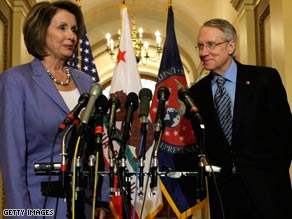 Just two days into his term, the president is already facing pushback from leaders of his own party.
House Speaker Nancy Pelosi and Senate Majority Leader Harry Reid have made it clear - it's not their job to answer to Obama.
To a certain degree, the president-Congress tension is simply politics at play - something that happens every time a new president comes in.
But this time, the Democrats have even more power than they did before the election, meaning Pelosi and Reid both have huge majorities in their respective houses.
(READ the rest of Crowley's commentary HERE)
Filed under: Congress