By Bob Woodward of the Washington Post – Woodward will be our guest tonight – what do you want to hear from him?  Let us know!
There's actually a lot that President Barack Obama can learn from the troubled presidency of George W. Bush.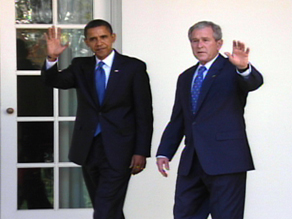 Over the past eight years, I have interviewed President Bush for nearly 11 hours, spent hundreds of hours with his administration's key players and reviewed thousands of pages of documents and notes. That produced four books, totaling 1,727 pages, that amount to a very long case study in presidential decision-making, and there are plenty of morals to the story.
Presidents live in the unfinished business of their predecessors, and Bush casts a giant shadow on the Obama presidency with two incomplete wars and a monumental financial and economic crisis. Here are 10 lessons that Obama and his team should take away from the Bush experience.
(Read Woodward's 10 lessons HERE)
Filed under: Bob Woodward • Larry King Live