By Bill Schneider
CNN Senior Political Analyst
President Obama's inaugural address was cooler, more measured and reassuring than that of other presidents making it, perhaps, the right speech for the times.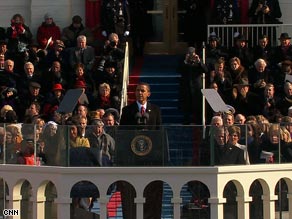 Some inaugural addresses are known for their soaring, inspirational language. Like John F. Kennedy's in 1961: "Ask not what your country can do for you. Ask what you can do for your country."
Obama's address was less stirring, perhaps, but it was also more candid and down-to-earth.
"Starting today," the new president said, "we must pick ourselves up, dust ourselves off and begin the work of remaking America." 
Read the rest of Schneider's commentary HERE
Filed under: Inauguration • Larry King Live • President Obama