As the clock ticks down on his presidency, George W. Bush has shown few signs he plans to indulge in the frenzy of last-minute pardons that marked Bill Clinton's final hours in the Oval Office.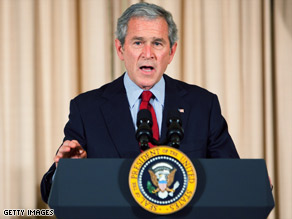 But Bush could quickly leap back into the spotlight in the next two days if he issues a blanket pardon immunizing CIA and military interrogators, as well as their bosses, from criminal prosecution over harsh treatment of prisoners from the war on terror.
Bush is also facing pressure from conservative allies, who see pardons of former Bush administration officials and some others as a more realistic possibility. At the top of their lists: Dick Cheney's former chief of staff, I. Lewis "Scooter" Libby and former Attorney General Alberto Gonzales, still under investigation for his role in a series of U.S. attorney firings.
(Here's the top 10 list of possible pardons to look out for)
**UPDATED: On his final full day in office, President Bush issued commutations for two former border patrol agents convicted in 2006 of shooting an undocumented immigrant who was smuggling drugs at the time – READ ABOUT IT HERE
Filed under: Larry King Live • President Bush