In celebration of MLK Day, we'll be talking to Martin Luther King III, Rev. Jesse Jackson and Rev. Ralph Abernathy on the show tonight.
More than two-thirds of African-Americans believe Martin Luther King Jr.'s vision for race relations has been fulfilled, a CNN poll found - a figure up sharply from a survey in early 2008.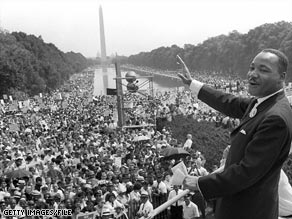 The CNN-Opinion Research Corp. survey was released Monday, a federal holiday honoring the slain civil rights leader and a day before Barack Obama is to be sworn in as the first black U.S. president.
The poll found 69 percent of blacks said King's vision has been fulfilled in the more than 45 years since his 1963 "I have a dream" speech - roughly double the 34 percent who agreed with that assessment in a similar poll taken last March.
(Read the rest of the article HERE)
Filed under: Inauguration • Larry King Live